It's that time of year again here in Central TX…Farmers Market time…or if you live in a town that starts with a Pf then it's Pfarmers Market time!
The boys and I headed out the the Green Red Barn (it's a red barn with green energy) for the very first Pfarmers Market of the season.
We were excited to see so much fresh produce and a couple big names back again this year…fresh meat and breads too!
We bought some green and orange cauliflower (one green, one orange) which were actually kind of spicy.
Connor also had to have some radishes. He's been eating them straight out of the garden at the horse farm during his lessons.
We saw some dino kale, but opted for the spinach instead…maybe next week. And I wish I'd gotten some of the Rainbow Chard…it's actually kind of good…but that will have to go on the list for next week too.
The Pflugerville Pfarmers Market is open each Tuesday from 3-7pm starting in May and running through the end of October.
They have lots of fresh produce, breads, meats and sauces.
They usually have live music too and a little stand with some kind of treats.
My kids love to go and see the dogs that are there from the local animal shelter too.
Don't forget to check out the other posts in the Kids in the Kitchen series by clicking on the image below.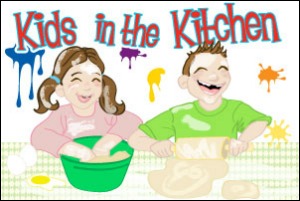 Check out your local Farmers Market and see what kinds of cool new foods you can find!